RECIPE OF THE WEEK: CALDO GALLEGO (EPISODE 2)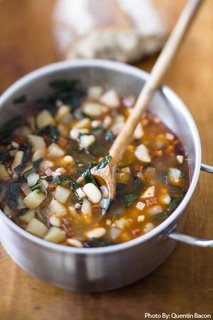 This is the traditional, restorative soup of Galicia. With a little bread, you've got a great meal on your hands. Maria's version was especially good and it's no coincidence that she grows her own greens.

Serves 4 to 6

- 1/2 pound thickly sliced pancetta or slab bacon, cut into 1/4-inch dice
- 1 cup dried white beans, soaked overnight in water to cover
- 1 large onion, cut into 1/2-inch dice
- 2 baking potatoes, peeled and cut into 1/2-inch dice
- 2 turnips, peeled and cut into 1/2-inch dice
- 1/2 pound Spanish chorizo, casings removed and sliced 1/4 inch thick
- 1 pound turnip greens (or other dark leafy green), stemmed and coarsely chopped

Cook the pancetta in a large heavy pot over medium heat until most of the fat is rendered, 8 to 10 minutes. Drain the beans, add them to the pot, along with enough water to cover them by 2 inches and bring to a boil. Skim off the foam, then lower the heat and simmer gently, partially covered, for 45 minutes to 1 hour, or until the beans are beginning to soften.

Add the onion, potatoes, and turnips and cook for 20 minutes, or until the vegetables are softened. Add the chorizo and greens and cook for 10 minutes, or until the greens are tender.
Posted Tuesday, September 30, 2008